"I don't need a blog because my products sell themselves." That's what many of you will be thinking if you have a health and wellness eCommerce site. The bad news is, you're wrong. Why? Because in this day and age, people need to feel they are buying something credible. And they need to see that the company, or person who is selling them something, is authentic, credible, and has validity.
And your audience needs to feel a connection to your brand and establish a relationship with it, before they invest their time and money in you. So why do you need to have a blog?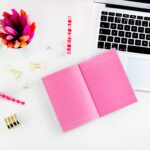 A Blog let you speak from the heart of your business
The health and wellness industry is very personal and heart-centered. That's why you went into it, right?  It's an old adage that people buy from people, not corporations. And a blog allows you to give your company, your product, your service a human face.
Did you know that more than 50% of blog readers are online shoppers? And that 61% of U.S. online shoppers gain more confidence about making a purchase based on recommendations they read in blogs? That could be you extolling the virtues of your product. In fact, according to Trew Marketing, while people only spend 2 seconds looking at an ad, they will spend minutes absorbing all that juicy content in your blog.
A Blog demonstrates you are trustworthy to buy from
Here's another statistic for you. A whopping 70% of people prefer articles to advertisements when they are learning about a company.
Why? Because they are, in their eyes, a lot more trustworthy. Now you want your customers to trust you, don't you?
Your clients are putting their health in your hands. That's a big deal. They need to know they are safe and sound with you and what you offer.
Blogs are no longer about one lonely individual huddled over their computer waxing lyrical about their views. They are about providing a supportive pillar of influence as well as information to a business.
If you are demonstrating you KNOW your stuff when it comes to what you do (and everyone else for that matter) Blogging is now seen as a great way to demonstrate a brand is trustworthy and credible. It's the third most used content marketing strategy in the U.S.
Your blog gets your site seen by LOTS more people online
Websites with blogs have 434% MORE indexed pages. Now, what does that mean for you? Google and other search engines collect information from your website more frequently. And this means you get better rankings. And then you get more visibility. And then more people see your brand. And you will get more sales.
Now there could be an argument here that you only need to sling up a few blogs on your site, and you're done and dusted. Sadly not. Those pesky Google gods want you to keep feeding the beast. So if you aren't updating your site frequently, they won't give you a gold star. Blogging is an excellent way to tell search engines that your site has been updated, that you're there in the market selling your stuff. You are giving the search engines what they want. And in return, just like Zeus from Greek mythology, they will reward you. However, in this case, they rank your website higher, so more people see you.
Your customers crave more of what you can tell them about you BEFORE they buy
Statistically, 47% of online shoppers read three to five articles before engaging with an eCommerce business. So you need to keep that content coming if you want to get them invested. But what content should you be blogging about. Here are three key areas you should focus on when you are creating content:
*Content relevant to the products in your eCommerce store
*Content relevant to your niche
*Content relevant to what users are searching for – that's their keyword research.
So let's look at each of these in a bit more detail.
Blog Content relevant to the products in your eCommerce store
Now, if you have an eCommerce store for your health and wellness brand, you will know that many of them have about four sentences to explain what your product does next to a pretty picture. That's not going to give you much room to extoll the virtues of all those beautiful benefits it has. (Remember it's all about benefits, NOT features when it comes to good copywriting.)
Of course, you don't want to overwhelm your visitors. But it doesn't give you much flexibility to use some keywords.  If you have a blog, you can write tips, create guides, and compare your products with others in your niche. You can also point out the strength of your own products. And you can add links to your product pages. So if someone is reading about something you sell and thinks, "yes, I want to buy," they can just click through the link to purchase.
Create content relevant to your niche
So let's say you have a vegan make up range. Anyone purchasing your product will be interested in everything and anything to do with skincare and beauty that revolves around veganism. They will want to learn as much as they can about how they can still use products while supporting the fact they are vegan.
You could even do a blog on what makes a vegan different from a vegetarian. If someone is new to being a vegan or thinking about making the switch, they will read it. You can blog on how to use fruit and veg from your kitchen for DIY beauty products. You can also talk about what makes your individual products vegan. All of this is content around your niche.
Create blog content your fans are searching for
Blogs are a great way to expand on keywords for an eCommerce site so you can add in all those keywords. We have already touched on the fact you have very little opportunity to plug these into your product descriptions. And if you can put keywords elsewhere on your site, the SEO sprites will be all over your website, pushing it up the rankings.
An example is if you have a product for dry skin that has excellent results on dermatitis and is made from natural ingredients. So someone new to your brand might Google 'cream for dermatitis' or cream for flaky hands or 'natural dry skin treatment' or 'natural treatment for dry skin.' If you have all these keywords in your blogs, you have a much much better chance of popping up in an organic search.
How to make your eCommerce blog successful
*Keep your quality high
While yes, you should be aiming for a regular flow of content in your blog, quality is always king. Look at your competitors and aim to publish content that is better and more informative than them. This means you have to research and spend time building your blog post. When I put together a blog post for a client, it takes hours. And that's just the research. Then it's more hours creating the copy (NEVER less than 1100 words).
Next, I walk away and look at it again with fresh eyes. Then I read through it again, do another edit, rewrite and spellcheck. Then I get it proofed. Next, I read it one more time before it goes to the client. So that is many hours of work. If you want to do it right.
*Make your content timeless
Make sure your content is timeless. If I came back to your blog post in 10 years, it would still be pretty relevant. Always try and publish your blog at the same time each week and then promote it on your social media.  That way, your audience can start to get excited about reading it. You can also use it as a way of building your list – offer it as a free piece of content to bolster your brand.
*Don't force your sales pitch
It's always very tempting to use flowery language in your blogs to push your product. I had a cannabis client once who wanted more flowery language than the Chelsea Flower Show. It didn't do them any favors. What readers want now is expertise (it goes back to validating your product again). You don't need to tell someone how fabulous you are. If you have an eCommerce site with great products, show them!  You have more than 1100 words to demonstrate why you are the bee's knees. Write with authority and in clear and concise language.
Your audience is also super savvy now when it comes to sales pitches. Don't be in yer face pushy with your promo. Instead, go for a healthy balance of authoritative and promotional content. Your audience will love you for it.
Blogs can build your brand
Blogs are a never-ending process. But don't let that put you off. Because every single blog you add to your website is building your presence, your credibility, and your validity. It also improves your connection with your audience and their trust in your brand. The key things to remember are always to write with your target audience in mind.
You won't see the results immediately, but in time, your blogs will help shape your brand's presence online. And in the mind of your potential customer. Readers will appreciate the time and effort you have put into creating your blogs. And you must maintain a regular schedule. So don't post 5 blogs and then leave it for three months (yes, guilty as charged and I teach people about this stuff!)
But you know more than anyone (and I do too) writing a blog properly can be a time-consuming process. And you want to focus on the fun stuff about your business, right?
A blog post that has been written properly needs to be thoroughly researched, with statistics that back up what you are saying. It also needs to speak directly to the heart of your audience in a way that isn't salesy but is advising and informing. This can be difficult to do, especially when you are so close to a product.
However, blogs are a real necessity if you are building your brand. The best schedule to have? Post at least once a month. Preferably every week. Yes, EVERY week. And if you are whipping something up that's 500 words long, don't bother. The best blog posts that get the best results for you, and your reader, are 1500- 1600 words long.
If you don't have the budget to hire someone to write them for you, you can at least get a copyeditor to look at it. Writing doesn't come easily to everyone.  Or you could take a look at my blog post bundle you can buy now by clicking HERE. This will give you a kick start to getting some powerful content created for you, and you can use that as a springboard for you to continue with your material.
If you liked reading this post, then read my post on how to write really amazing emails…that get opened!